Deity - DTB0185D52 Pocket Wireless Mobile Kit ประกันศูนย์ไทย
รหัสสินค้า:
6971842181971
Key Features
For Video, Journalism, and Livestreaming
Clip-On Transmitter/Mic + Lavalier Mic
Locking 3.5mm Mic Input, 25mW RF Output
Lightweight Miniature Receiver
USB Type-C Connector for Phone/Computer
3.5mm TRRS Cable Adapts to Camera/Phone
Easy-to-Use, OLED Screen
Adjustable Gain, Analog Limiter
5-Hour Rechargeable Batteries
Maximum of 2 Systems on Set / 213' Range
Deity Microphones PWB Specs
System
| | |
| --- | --- |
| Wireless Technology | Digital 2.4 GHz |
| Included Transmitters | 1 x Clip-On with Microphone |
| Diversity | Intelligent Switching Diversity |
| RF Channel Scanning | Auto-Scan |
| Max Operating Range | 213.3' / 65 m |
| Max Transmitters per Band | 2 |
| Built-In Recorder | No |
| Timecode Support | No |
| Control App Support | No |
| Sample Rate/Resolution | 48 kHz / 24-Bit |
| Latency | 19 ms |
| Encryption | None |
Receiver
| | |
| --- | --- |
| Receiver Type | Camera-Mount / Beltpack / Portable |
| Mounting Options | Belt Clip, Shoe-Mount (with Included Hardware) |
| Number of Audio Channels | 1 |
| Gain Range | +0 dB |
| Phantom Power Protection | None |
| Frequency Response | 20 Hz to 20 kHz |
| Network I/O | None |
| Word Clock I/O | None |
| USB/Lightning Connectivity | 1 x USB Type-C (Audio, Charging) |
| Standalone Audio Interface Capable | No |
| Power Requirements | Battery or Bus Power (USB) |
| Battery Type | 1 x Built-In Rechargeable (Included) |
| Internal Battery Capacity | 400 mAh |
| Battery Charging Time | 1.25 Hours |
| Approx. Battery Life | 5 Hours |
| Display & Indicators | 1 x OLED (AF Level, Battery Status, RF Level) |
| Dimensions | 1.3 x 2.2 x 0.8" / 33 x 55 x 20 mm |
| Weight | 1.2 oz / 34 g |
Transmitter
Transmitter Type
Bodypack with Microphone / Clip-On with Microphone
RF Output Power
25 mW
Audio I/O
1 x 1/8" / 3.5 mm TRS Female Input (Lockable)
Included Cable Connector
1/8" / 3.5 mm TRRS
Plug-In Power
2.5 V
Pad
None
Muting
Off/On Switch
Auto-Level Control
No
Gain Range
Up to +21 dB (3 dB Steps)
Signal Processing
None
Frequency Response
20 Hz to 20 kHz (Dependent on Mic)
Sync Method
Proprietary
Power Requirements
Battery
Battery Type
1 x Built-In Rechargeable (Included)
Battery Charging Time
1.25 Hours
Approx. Battery Life
5 Hours
USB/Lightning Connectivity
1 x USB Type-C (Charging)
Display & Indicators
1 x LED (Power)
1 x LED (Sync)
Dimensions
1.3 x 2.2 x 0.8" / 33 x 55 x 20 mm
Weight
1.1 oz / 31 g
Microphone
| | |
| --- | --- |
| Microphone Type | Integrated |
| Sound Field | Mono |
| Polar Pattern | Omnidirectional |
Microphone 2
| | |
| --- | --- |
| Microphone Type | Lavalier |
| Sound Field | Mono |
| Capsule | Electret Condenser |
| Polar Pattern | Omnidirectional |
| SNR | 67 dB |
| Maximum SPL | 110 dB SPL |
| Sensitivity | -40 dB |
| Dynamic Range | 83 dB |
| Output Connectors | 1 x 1/8" / 3.5 mm TRS Male Unbalanced (Lockable) |
The versatile, black Deity Pocket Wireless is an ultracompact true-wireless digital microphone system designed to provide high-quality, hands-free audio for applications including video creation, conferencing, livestreaming, and mobile journalism. The system can record audio to devices with USB Type-C or 3.5mm connectors, allowing it to work with a wide range of cameras, phones, recorders, and computers to deliver dependable wireless transmission that even inexperienced users can easily operate.
Do-it-yourself videographers working alone or with a single on-camera personality will find the Pocket Wireless makes set up simple, so you can focus on the rest of the action. The first part of the system is comprised of a miniature clip-on transmitter with a built-in omnidirectional microphone. Simply clip the transmitter to your subject's collar or lapel for quick run-and-gun shoots, or use the included lavalier mic for a more discreet look. The second part of the system is the ultracompact receiver, which attaches to your phone or camera and can receive wireless audio from the transmitter at a range of up to 213 feet.
The receiver connects to the USB Type-C port on your smartphone or tablet with the included cable, providing a digital connection for recording or streaming. For camera use, the receiver's clip doubles as a shoe mount, while the included USB to TRRS cable automatically adapts to work with any camera, camcorder, or recorder with a 3.5mm input jack.
The system arrives pre-paired at the factory and ready to go, while pair buttons allow you to sync with other Deity Connect components. Instead of commonly used 4mW Bluetooth 5.0 chips, the Deity Pocket Wireless utilizes a proprietary 25mW protocol for digital transmission—ensuring reliable signal strength, even when talent blocks the transmitter's line of sight to the receiver. The transmitter and receiver both feature built-in rechargeable batteries that will run for up to 5 hours and can be completely recharged in 1 hour and 15 minutes. Both components can run indefinitely if connected to USB bus power.
In addition to the previously mentioned components, the system also provides a USB Type-C to USB Type-A adapter cable, a USB Type-C firmware dongle, a fur windshield, and a rigid carrying case for storage and transport. A maximum of two Pocket Wireless systems can be used on set at the same time.
Easy-to-Use Wireless for Phones, Cameras, and Computers
The tiny, lightweight transmitter with built-in microphone easily clips to talent for quick interviews and on-the-go shoots.
Alternatively, plug the included lavalier microphone into the 3.5mm jack and use the transmitter as a hidden bodypack for a more low-profile appearance.
The transmitter's and lav microphones both offer forgiving omnidirectional polar patterns that pick up sound from all around the capsule, giving you more mic placement options when working with talent.
The ultracompact receiver connects to your device's USB Type-C port or 3.5mm input jack, letting it work seamlessly with mobile devices and computers; a USB Type-A adapter is also included for computer use.
For camera use, the receiver's clip mounts to your camera shoe
The included TRRS cable allows the system to automatically adapt to work with any camera, camcorder, phone, or recorder with a 3.5mm input jack.
Reliable Sound Quality for Videographers, Content Creators, and Livestreamers
The transmitter uses a proprietary 25mW transmission technology to ensure a reliable wireless signal without dropouts or interference at a range up to 213'.
The transmitter offers up to +21 dB of input gain, adjustable in 3 dB steps, so you can set right input level for your speaker.
An analog limiter reduces clipping and overloads at the input stage, helping to ensure you get clear and intelligible speech and dialog.
Gain settings on the transmitter can be controlled remotely from the receiver, so you don't have to walk away from the camera to make adjustments.
The Sennheiser-standard locking 3.5mm TRS input is compatible with a wide range of popular lavalier microphones such as the Sanken COS-11D, DPA CORE Series, Sennheiser ME 2-II, Deity W.Lav Pro, and others.
By connecting to your device's USB Type-C port, the system avoids unnecessary D/A and A/D conversion to maintain the integrity of the digital signal from your transmitter all the way to your recording device.
As a streaming and conferencing solution, you can use the receiver as a USB microphone, with the transmitter and the lav giving you hands-free mic choices that allow you to move around for demos and explanations.
Other Features
Lightweight, ultracompact housings
Dual-function clips on both the transmitter and receiver act as belt clips and cold shoe mounts
Compatible with the entire Deity Connect ecosystem
OLED screen on receiver shows battery life, audio levels, and signal strength
Display rotates to accommodate different mounting options
Includes USB-C cable, TRRS cable, USB Type-A adapter cable, lav microphone, fur windshield, and rigid carrying case
5-hour battery keeps you going on long shoots or multiple run-and-gun gigs in a day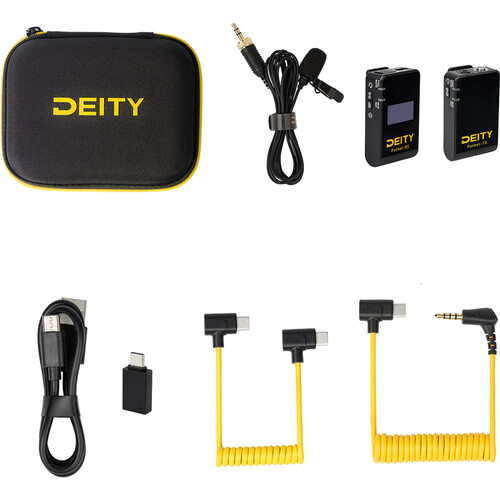 ข้อมูลเพิ่มเติม

| | |
| --- | --- |
| แบรนด์ | Deity |
| Model | DTB0185D52 |
| ประเภท | Wireless Microphone |
| รับประกัน | 1 Year |
เขียนรีวิวสินค้าของคุณเอง